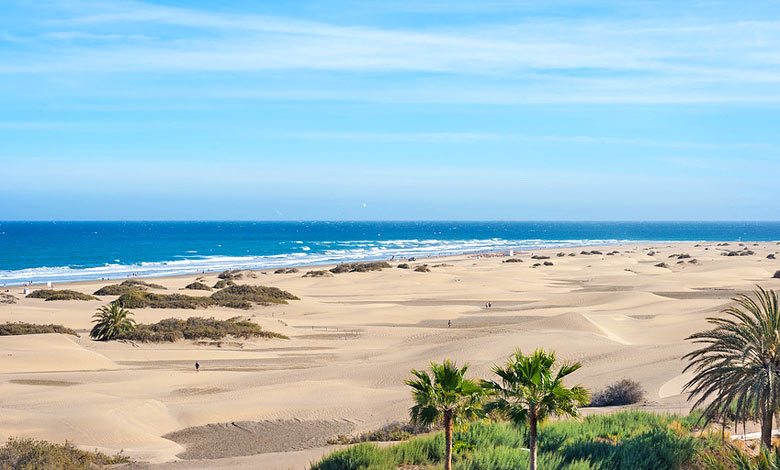 The Maspalomas desert, whose real name is Dunas de Maspalomas, is a unique natural area on the southern tip of Gran Canaria. The desert landscape is an extraordinary natural experience and is understandably one of Gran Canaria's top tourist attractions.
The fascinating sandy landscape is just over 400 hectares in size and was declared a nature reserve in 1994. Several articles claim that the desert is formed by sand, which has been transported by the wind from the Sahara, but this is not true. The wind, however, does ensures that the desert moves 2-5 meters in a westerly direction per year. Surprisingly, in the sand there is also relatively rich plant and animal life, especially insect species that are otherwise only found on the African mainland.
A good place to start the desert walk is at the Hotel Riu Palace Maspalomas. There is an info center here and the desert experience is best just south and southeast of the hotel. Here there is virtually no vegetation in the sand, only beautiful sand dunes with golden, fine-grained sand.
In the north-east of the desert is Playa del Ingles beach, one of Gran Canaria's most popular beaches. A little to the south is a long section including a nude beach. In the other corner of the desert is Maspalomas beach. Behind this beach is the La Charca wetland, where many different migratory birds live in the winter.
Just north of La Charca you can go on a camel safari in the desert. The tour lasts 30-35 minutes and there are tours departing every 15 minutes, so there is no need to book an appointment. With a camel safari, the whole family gets a very special experience, and especially the kids will think it's fun to ride a camel through the desert.
---
See our video from the Maspalomas desert
---
Map of the Maspalomas desert
The three obvious places to start the desert walk are up at Playa del Ingles, at the hotel Riu Palace Maspalomas or down in the southwest corner at the lighthouse in Maspalomas. The camel safari is a few hundred meters north of the lighthouse.