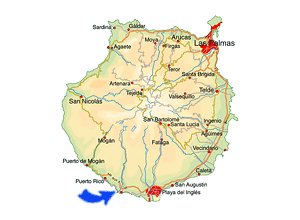 Patalavaca is located just north of Arguineguin on the south coast of Gran Canaria. In practice, however, the two holiday resorts have gradually become one large holiday resort.
The beaches in general
Patalavaca has two beaches, but the selection is even better in the neighbouring towns.
Playa de Patalavaca is the largest and best beach in Patalavaca. It has a central location close to the 3-star beach hotel Servatur Green Beach.
The total length of the beach is 200 metres, but a small rock ledge divides the beach in two. Both parts of the beach have fine-grained sand and in the southern part of the beach, it is possible to rent sun lounges and sunshades. The bathing conditions are usually good, however, there may be high waves, if the wind blows from the south-west.
The other beach in Patalavaca, Playa de Aquamarina, is located a bit further to the north. This is a nice little sand beach, which is almost fully protected against waves.
There are other beaches near Patalavaca, which can be reached on foot. Either the main beach in Arguineguin, or even better the artificial beach near the time-share apartments Anfi del Mar. The water here is shallow and the beach is covered with very fine-grained, bright sand, imported directly from the Bahamas. Definitely one of the best beaches in Gran Canaria.
Child-friendliness
The most child-friendly beach in Patalavaca is Playa de Aquamarina. Particularly the shallow and calm water is perfect for small children.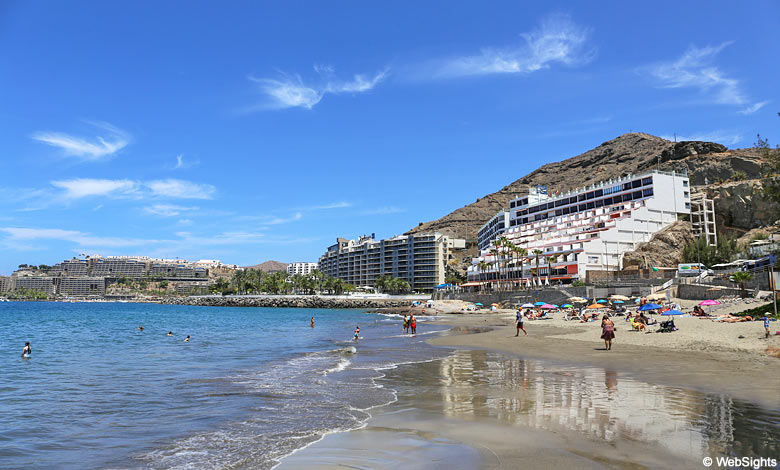 Water sports activities
There are no water sports activities at the beaches in Patalavaca. At the beach near Anfi del Mar, however, there is a wide selection of water sports activities.
Beach restaurants
A bit above Playa de Patalavaca, you will find two restaurants. The seafood restaurant Sagitario and the Danish restaurant Freja. Behind Playa de Aquamarina, you will also find a large restaurant, which is also a beach bar.
Patalavaca as a holiday resort
Patalavaca is not a very large holiday resort, however it is nice and quiet. Most of the hotels have three or four stars and the town has an adequate selection of shops and restaurants.
In the next town Arguineguin, you will find even more shops and restaurants and it is only 5-10 minutes away on foot. On Tuesday mornings, you can visit Gran Canaria's biggest market in Arguineguin. From the harbour in Arguineguin, there are regular boat trips to Puerto Rico and further on to Puerto de Mogan.
---
Patalavaca map
In the central part of the map, you can see Patalavaca, whereas Arguineguin is further to the south. To the northwest, you can see the almost completely white sand beach at Anfi del Mar.