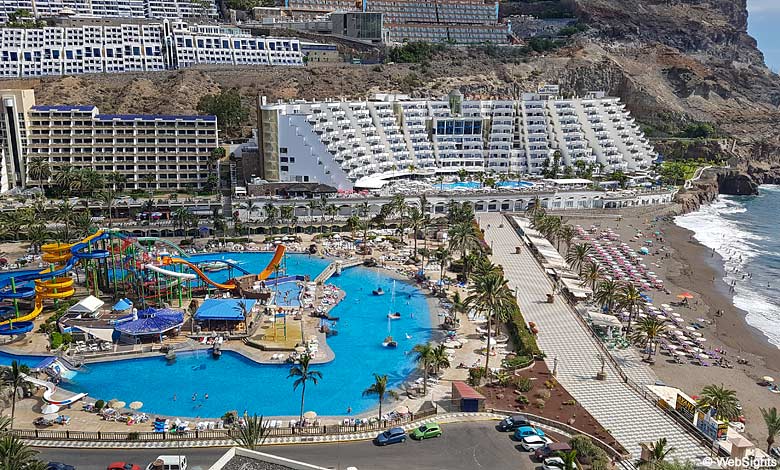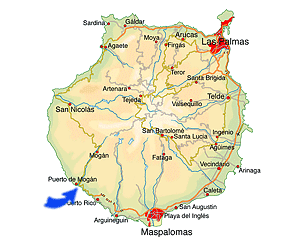 Playa Taurito is a small, quiet and rather elegant resort on the southwest coast of Gran Canaria, which appeals to families with young children and couples of all ages. The hotels stretch up the cliffs on both sides of the elongated valley. The center of the resort is a large swimming pool complex and a good selection of sport and leisure facilities for the whole family.
The beach in Playa Taurito
The beach in Playa Taurito is as in several other Gran Canaria resorts manmade. The lava sand is quite dark and is partly mixed with small stones. Although the beach is nicely sheltered, unfavourable wind directions and currents can make the beach less suitable for small children.
Behind the beach you will find a great pool complex. With its many different pools, water slides and other activities it is guaranteed fun for all the family. The entrance fee is some 10 Euros, including sun loungers. A perfect alternative to the beach.
Restaurants and nightlife in Playa Taurito
Most of the restaurants in Playa Taurito are hotel restaurants but there are a few restaurants and cafés in the center of the resort.
The nightlife in Playa Taurito is very low-key with larger hotels provide evening entertainment. Those looking for livelier venues can visit nearby Puerto Rico.
Activities in Playa Taurito
Playa Taurito offers several sport and leisure activities for the whole family like squash, tennis, minigolf and bowling. Furthermore there is a dive centre located at Playa Taurito with lessons and excursions available for divers of all skill levels.
More activities, including water sports and various boat trips, are found in neighbouring resort of Puerto de Mogan.
---
See our video from Playa Taurito
---
Playa Taurito map