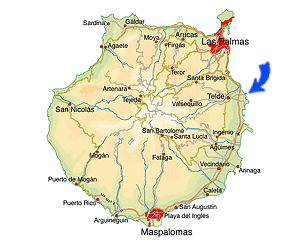 La Garita is a small town on the east coast of Gran Canaria. It is located only 6 km north of the international airport in Gran Canaria, and 12 km south of the capital of Gran Canaria, Las Palmas.
The beach in general
Playa de la Garita is a nice and large beach, partly protected inside a small bay. The beach is covered with fine-grained and very dark lava sand. The beach is well protected against waves, except when the wind blows from the east.
It has facilities such as showers and toilets, but it is not possible to rent sun lounges and sunshades. There is usually plenty of room at the beach, as it is located far from the large tourist areas on the island.
Behind the beach, there is a charming sea front connecting Playa de la Garita with the beaches Playa de Hoya del Pozo, Playa del Hombre, Playa de Melenara and Playa de Salinetas. All nice beaches with dark lava sand.
Child-friendliness
The beach has plenty of room to play. There is also a small playground behind the beach.
When the wind blows from the east, there are often high waves, which makes the beach less suitable for children on windy days.
Water sports activities
There are no water sports activities at Playa de la Garita.
Beach restaurants
The beach has several restaurants and cafés nearby. The closest one is El Galeón, which is located only 20 metres from the beach.
La Garita holiday resort
La Garita is a charming and relaxed town without any large hotels. However, the town has several restaurants, a bakery, a bank, a pharmacy and a few supermarkets. So if you need a change from the beach life, you can also enjoy an ice cream and stroll around town.
It will be even better, though, to take a walk along the charming sea front and visit some of the neighbouring towns and beaches.
---
Playa de la Garita map
At the top, you will find Playa de la Garita, whereas the beaches to the south are Playa de Hoya del Pozo, Playa del Hombre, Playa de Melenara and Playa de Salinetas farthest to the south.