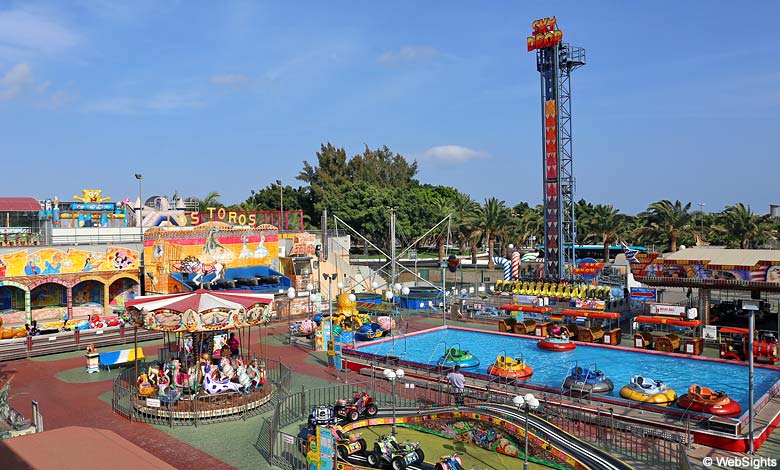 Holiday World in Maspalomas is the largest amusement park in Gran Canaria. Here you will find all kinds of traditional attractions and rides, such as the 27-metre-high ferris wheel, large and small roller-coasters, carousels, bumper cars and the 20-metre-high tower, Sky Drop.
Most activities are aimed at children up to the age of 10-12, whereas the tower and the large roller-coaster appeal to all age groups. Among the local visitors, the bulls are particularly popular. The young visitors compete to see, who can stay on the bull for the longest time.
For the youngest, there is an outdoor playground with bouncing castles, climbing walls etc.
There is also a gigantic indoor area. It includes not less than 16 bowling alleys and a popular 4D cinema. Inside, you will also find several areas with slot machines, pinball machines, billiard tables and air hockey. When the family gets hungry, there are several places to eat, including a Chinese restaurant.
However, it is not all for amusement. Holiday World also has a 2,500 m2 fitness centre, which makes it the largest fitness centre on the south coast of Gran Canaria. It also has a wellness area where you can get a massage etc.
In the evening, the bars and discos open in Holiday World. They have a mix of live music, shows and then, of course, dance music in the discos. The most popular bar is the Irish Moonlight Pub.
Opening hours: Most of the attractions in Holiday World are open every day from 6.00 pm. The bars and discos open at 10.00 pm and are usually open until 4.00 am.
---
Holiday World map