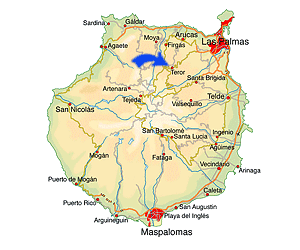 Teror is one of the most beautiful villages in Gran Canaria. The village's distinctiveness are the houses in the characteristic colonial style, with the significant doors, frames, windows and balconies made of dark, carved wood.
Many of the buildings dates all the way back to the 1500s and because of its architectural wealth, the entire centre of Teror was declared a national monument in 1979.
The village is build around the basilica Nuestra Señora del Pino, which is dedicated to Gran Canarias's patron saint, La Virgen del Pino. According the the legend she showed herself exactly where the basilica is build the 8th of September 1481. From the same day and a week forward this event is celebrated every year in Teror.
Museum Casa Museo de los Patrones de la Virgen is located close to the basilica. In this building from the 1600s, the visitors can see paintings, photographs, weapons and antique furniture representing the lifestyle of the nobles of that time.
Every Sunday there is a market in Teror. Here you will find a wide range of goods, including some specialties from Teror like the spicy sausage Chorizo de Teror and sweets hand made by local nuns.
Teror is also famous for its mineral water, Agua de Teror, which is harvested from a natural spring just outside the village.
---
Teror map