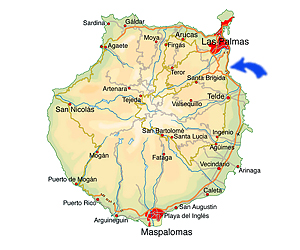 Playa de La Laja is located 3 km south of Las Palmas, the capital of Gran Canaria.
The beach can be seen from the motorway, particularly the large sculpture of the Roman god Triton. The sculpture is 10 metres high and was erected in 2011 when the entire beach area was renovated.
The beach in general
Playa de La Laja is a lovely beach stretching over 1.2 km. Behind the beach with fine-grained lava sand, you can see the motorway; however, the most eye-catching scenery is the mountains right behind it.
The water is relatively shallow, but there are often waves. In the central part of the beach, and the southern end as well, there are breakwaters in the water. These places are, therefore, the best ones to take a dip on days with waves.
Straight north of the beach, you will find some piscinas naturales. These are three pools with seawater cut into the solid rock. They are 0.7-1.4 metres deep.
The beach does not have any facilities, but during the summer, it is supervised by up to three lifeguards. At this time, the beach is often almost full, mainly with people coming from Las Palmas. There are parking spaces in both ends of the beach.
The charming sea front behind the beach leads all the way into town, and many people use it to go cycling or for a long walk.
Child-friendliness
There is plenty of room to play and play ball at the beach.
Bathing is recommended near the breakwaters in the central part or the southern end of the beach. In the salt water pools straight north of the beach there are, obviously, no waves and piscina norte it is only 0.7 metres deep.
Water sports activities
Playa de La Laja is very popular among surfers, as the waves are often perfect for surfing. The surfers usually gather at the place called Pico de La Laja.
Beach restaurants
There are no restaurants or beach bars by the beach.
Nearby holiday resorts
The capital of Gran Canaria, Las Palmas, is located a few kilometres north of the beach. In Las Palmas, there are many hotels, but most of the guests usually prefer the beaches close to the town.
Therefore, the beach is usually used by the local residents from Las Palmas and many of these come to surf.
---
Playa de La Laja map