The holiday resort Amadores is located on the sunny south coast of Gran Canaria. Since the beach Playa de Amadores was built, Amadores has been one of the fastest growing holiday resorts in Gran Canaria.
The beach in general
With its bright sand, turquoise water and green palm trees, Playa de Amadores is considered to be one of the finest beaches in Gran Canaria.
It is 500 metres long and has fine-grained sand, which has been imported from the Caribbean. In addition to its fine, bright colour, coral sand has the advantage that it will not get quite as hot as regular sand.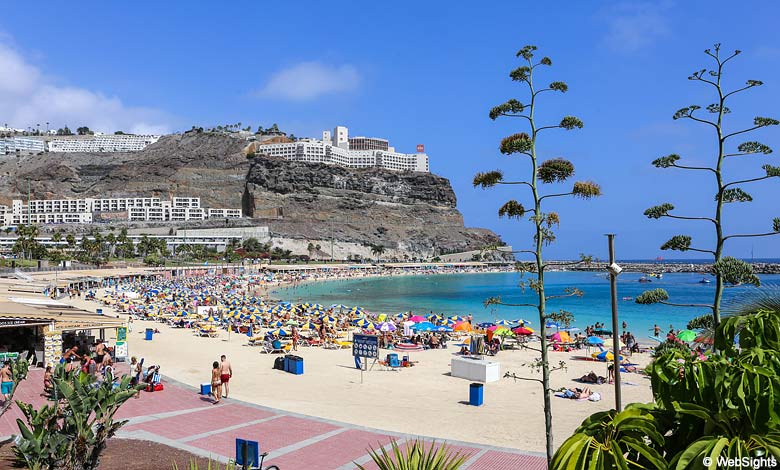 The coral sand gives the water its beautiful turquoise shades. The large breakwaters in front of the beach make sure that waves are a rare sight.
The beaches have all facilities possible and, of course, also the most common ones such as sun lounges, sunshades, showers and toilets. Behind the beach, there is a sea front with a fine selection of restaurants and tourist shops.
Visitors coming by car can park in one of the two large parking spaces close to the beach.
Child-friendliness
The sand is perfect for playing, but ball games are not allowed at Playa de Amadores. The water is usually calm, but not quite as shallow as in the next town Puerto Rico.
Water sports activities
At the left side of the beach, out on the pier, you can rent water bikes and jet skis. If a wider selection of water sports activities is required, it is recommended to go to the beach in Puerto Rico.
Beach restaurants
Along the sea front behind the beach, there are many restaurants, cafés and beach bars. They serve all types of food and most of the restaurants are also open in the evening.
It is also possible to buy sandwiches etc. to bring to the beach.
Amadores holiday resort
Amadores is still a relatively small holiday resort, even though the number of hotels have grown during the past few years.
Apart from the sea front, there is no actual town centre. However, the distance to the next town, Puerto Rico, is quite short, and here you will find not less than three shopping centres. It only takes a few minutes by taxi or a 20-25 minutes' walk along the coast.
Most hotels in Amadores have a view of the sea. This is also the case with the best hotel, Gloria Palace Royal Hotel & Spa. The hotel has a separate pool for children, a children's club, spa and WiFi at the entire hotel.
---
Amadores map