The holiday destination of San Agustin is located on the southern coast of Gran Canaria, a few kilometres east of Playa del Inglés and about a 25-minute drive from the airport.
The beaches in general
San Agustin is home to two large, beautiful beaches: the main beach of Playa de San Agustin and Playa de las Burras on the eastern outskirts of town.
Both beaches offer dark, fine lava sand and plenty of space for play and ballgames. It is, of course, possible to rent sun loungers and parasols, but for the most part, the beaches just offers sand on sand.
Behind the beaches, a gorgeous beach promenade stretches all the way to Playa del Inglés and into the desert of Maspalomas. It's a great, reasonably long hike, so remember to bring plenty of water.
Child-friendliness
The beaches are relatively shallow but take extra care of the children when the waves are big. There's lots of space for all sorts of games on the beach.
Water sports
Both beaches offer a selection of water sports, and the southern beach is home to a windsurfing academy.
Beachside restaurants
Both beaches are lined with restaurants and cafés. On top of that, there's a mini-supermarket nearby where you can buy sandwiches, ice creams, and cold beverages.
The town of San Agustin
San Agustin is the oldest holiday destination on Gran Canaria, but luckily it has never grown too big. The town is one of the prettiest and most fertile towns on the southern coast, with lots of palm trees, hibiscus plants, and bougainvillea.
The hotels are generally high quality, and many of them have four or five stars. These luxury hotels are home to excellent restaurants, but other options include restaurants in the shopping centre and around town. The nightlife in San Agustin is relatively quiet.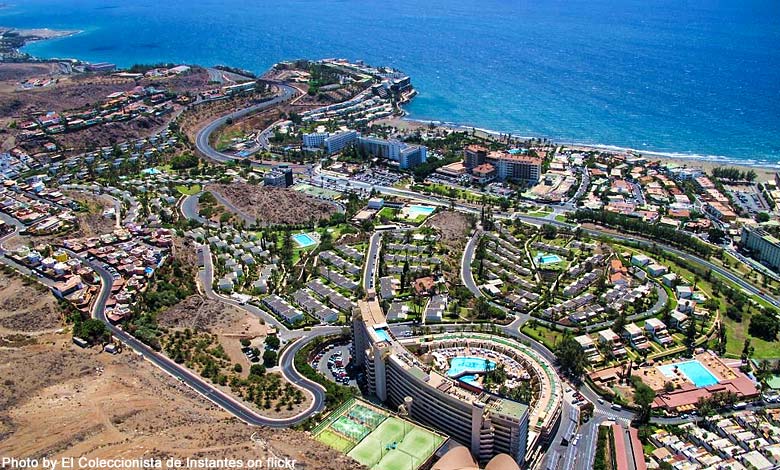 Hotel Gloria Palace has one of the biggest Thalassotherapy spas in all of Europe. The spa area is open to all, so while the rest of the family goes go-karting at the nearby Gran Karting Club, mum (or dad) can relax with a massage and seawater heated to 34-36 degrees.
---
San Agustin map
The map shows how big the beaches in San Agustin are. Move the map towards the southwest to see Playa del Inglés, the biggest holiday destination on Gran Canaria, and drag it further south to see the impressive desert of Maspalomas.