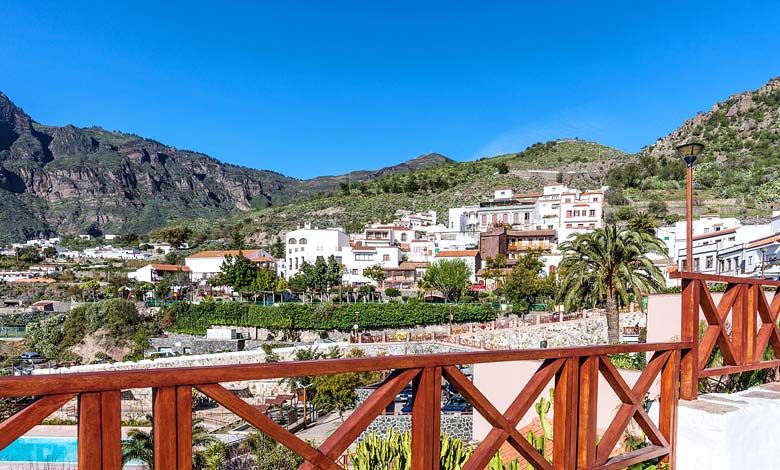 Tejeda is a small but very charming village located pretty much in the middle of Gran Canaria. However, not exactly in the middle, as the geographical center of the island is marked by the nearby stone cross Cruz de Tejeda, which is also worth a stop on the tour.
As in many other villages in Gran Canaria, the church is the focal point in Tejeda. Next to the church is the library, the post office and the small sculpture museum Museo de esculturas Abraham Cárdenes. Around the church there are a lot of well-kept whitewashed houses, and there are plenty of flowers and trees in the cozy streets and alleys.
If hunger strikes, there are five small restaurants near the church, but also take a look at Restaurante Texada a little south of the church. Here they brew their own beer, and one of the three variants is based on almonds from the local area. If you fancy an ice cream, visit Heladería LaLexe, which makes its own ice cream with many unique flavors.
Tejeda is surrounded by unbelievable beautiful nature, which all nature lovers should experience. From the village there is a view of high mountains, large forest areas and fields laid out as terraces on the mountain sides. Tejeda is also known for its many almond trees, which unfold their fine white and pink flowers at the beginning of February – which is marked by the annual village festival Fiestas del Almendro en Flor. The many almond trees have inspired several of the city's specialties, especially Bienmesabe, which is a tasty cake/dessert with ground almonds as the primary ingredient.
On the walk around Tejeda, the small shops tempt with delicious local specialties, and the specialties can be enjoyed at one of the many viewpoints, the so-called miradors. One of the best is Plaza Mirador del Ayuntamiento, where there is an impressive view of Roque Nublo, the most famous rock in Gran Canaria.
The beautiful nature invites you to go hiking. Several of the paths go all the way back to the time when the island's indigenous population, the Guanches, moved around the island. These paths are called Caminos Reales, which can be translated to royal paths. If you come to hike, remember that Tejeda is located at an altitude of 1,050 meters, making it one of the coldest villages in Gran Canaria.
---
Tejeda map
The small village of Tejeda can be seen in the center of the map. If you zoom in, the church's large red tiled roof becomes visible, and just above the church you can see the Tejeda's public swimming pool. The Cruz de Tejeda is located 2 km to the northeast. The giant rock Roque Nublo is 3 km south of Tejeda.