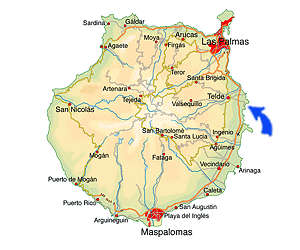 Playa de Melenara is located close to the small town Melenara on the east coast of Gran Canaria. The capital, Las Palmas, is located 13 km to the north, whereas the international airport is located 7 km in the opposite direction.
The beach in general
Playa de Melenara is a nice and very family-friendly beach. This makes it very popular among the local population as well as the tourists.
The beach is 350 metres long and 30 metres wide on average, which makes it one of the largest beaches in the area. It is covered with fine-grained lava sand, which is perfect for children to play in.
The water is relatively shallow and often quite calm. However, there may be – sometimes big – waves, particularly when the wind blows from the east. In the water you will see a big sculpture of Neptune, the Roman god of the seas and water.
The beach has many facilities such as showers, toilets and a lifeguard. However, there are no sun lounges or sunshades. The beach has special facilities for disabled people, including people in wheel chairs.Behind the beach, there is a large, free parking space. Between the parking space and the beach, you will find a large picnic area.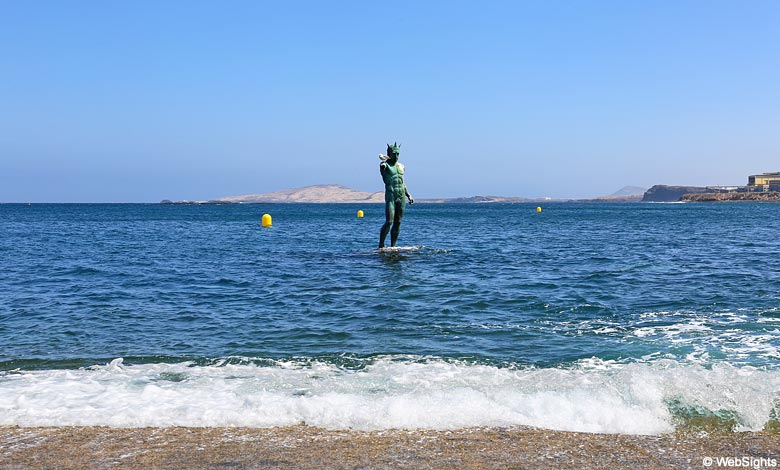 Child-friendliness
Large sand beach with plenty of room to play and the water is relatively shallow. Right behind the beach, there is a nice and big playground.
Beach restaurants
There is a wide selection of restaurants right behind the beach and in both ends of the beach. The best one is the seafood restaurant La Rubia, which is located in the left/north end of the beach.
Melenara holiday resort
Melenara is a small and busy town, which is influenced by its proximity to a popular beach.
In relation to its size, it has a wide selection of restaurants and cafés – particularly by the beach. It also has a number of small shops and a supermarket. The town does not have any hotels; however, it has a hostel called Hostal Albacar.
---
Playa de Melenara map
The map shows Playa de Melenara straight north of the beach Playa de Salinetas. Further to the north, you can see Playa del Hombre and Playa la Garita.