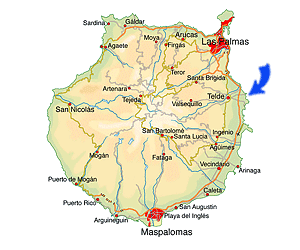 The beach Playa Hoya del Pozo is located on the outskirts of the town Playa del Hombre in the north-western part of Gran Canaria.
Playa del Hombre is located 6 km north of the international airport in Gran Canaria, whereas the capital, Las Palmas, is located 12 km to the north.
The beach in general
Playa Hoya del Pozo is a lovely beach in a quiet area with beautiful surroundings. The beach has a remote location on the northern outskirts of Playa del Hombre. The town also has a large beach with the same name.
The beach is covered with fine-grained, dark lava sand with only a few pebbles. The small bay offers some protection against the waves, but there are waves when the wind blows from the east.
It is not possible to rent sun lounges and sunshades, but there are showers and toilets at the beach. The beach usually has plenty of room and so does the parking space nearby.
Behind the beach, there is a lovely sea front with palm trees, stone kerbs and flowers. The sea front leads to Playa de la Garita to the north and Playa de Salinetas to the south.
Child-friendliness
The sand is perfect for playing and the beach has plenty of room. Watch out for undercurrents on days with waves.
Water sports activities
There are no water sports activities at Playa Hoya del Pozo.
Beach restaurants
There are no restaurants at the beach, but only about 100 metres from the beach, you will find the seafood restaurant Perico Junior.
Playa del Hombre holiday resort
Playa del Hombre is not a holiday resort, but a sleepy town mainly for the local population. There are almost no restaurants or shops.
The town to the north, La Garita, has a little more to offer. Here you will find a handful of restaurants and a few small supermarkets. You can walk to La Garita via the sea front.
---
Playa del Hombre map
Playa Hoya del Pozo is found between La Garita and Playa del Hombre. The large beach in Playa del Hombre is known for its perfect surfing conditions. Further to the south, you will find Playa de Melenara and Playa de Salinetas.