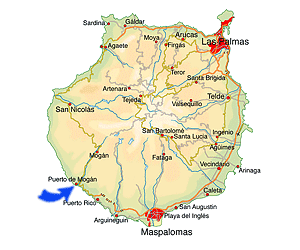 The idyllic holiday resort Puerto de Mogán is located on the south coast of Gran Canaria. It is the last holiday resort along the motorway from the international airport, 52 kilometres away.
The beach in general
Playa de Mogán is a lovely beach with a central location right in front of the town centre.
The artificial beach is approx. 250 metres long with fine-grained sand imported from the Sahara. The water is relatively shallow and thanks to the piers, it is usually calm.
The beach has all the usual facilities, including sun lounges, sunshades, showers and toilets. During the high season, the beach is supervised by a lifeguard. Visitors coming by car should be aware of the limited amount of parking spaces near the beach.
Child-friendliness
With its soft sand and relatively shallow, calm water, the beach in Puerto de Mogán is very child-friendly.
Water sports activities
There are many different water sports activities at the beach, including jet skis, parasailing and water bikes.
Beach restaurants
When you get hungry, you will find a fine selection of restaurants along the seafront. Try, for instance, the restaurant Porto Alegre, which is famous for its delicious tapas. For dessert, an ice cream from Gelatomania is recommended, which is also found right next to the beach.
In the area around the harbour next to the beach, you will find many good seafood restaurants.
Puerto de Mogán as a holiday resort
Puerto de Mogán is the most attractive holiday resort in Gran Canaria. The town is characterised by whitewashed houses, colourful bougainvillea and the many charming canals. Because of these canals, Puerto de Mogán is also referred to as the Venice of Gran Canaria.
Originally, the town was a small fishing village, but during the 1980s, it gradually turned into a holiday resort. The low houses, the streets without traffic and the many flowers bring a very charming atmosphere to Puerto de Mogán. Most of the big hotels are located in the background and do not disturb the image of the lovely town.
From Puerto de Mogán, you can take different boat trips. The most popular one is the trip to Puerto Rico, with departures at least once an hour. If you are lucky, the boat will be accompanied by dolphins some of the way. If you wish a somewhat more unusual boat trip, you can take a trip with the 'Yellow Submarine', which, as the name implies, is a submarine!
Friday is market day in Puerto de Mogán. The market basically offers the same as most other market, however, the market is quite popular.
---
Puerto de Mogán map
It is easy to see the well-protected Playa de Mogán on the map. The most charming part of the town is found by the harbour right next to the beach. The big hotels are located in the valley in the northern part of town.